Heart Healthy Strength Training / Richard J. Wolff, RD, LDN
8 Exercise Safety Tips for Atrial Fibrillation
One of the main objectives of exercise is to raise your heart rate. But when your heart rate is already elevated due to a heart condition such as atrial fibrillation, exercise and proper exercise safety can be intimidating. It doesn't have to be that way, however.
In general, there are no hard and fast exercise restrictions for people with atrial fibrillation that differ from safety guidelines for everyone, says Tracy Stevens, MD, a cardiologist at Saint Luke's Mid America Heart Institute in Kansas City, Mo., and a spokesperson for the American Heart Association. And there are no specific exercises for atrial fibrillation, either. But whether you've just been diagnosed with atrial fibrillation or you've been living with the condition for awhile, there are exercise guidelines that can help you reap the benefits of exercise without compromising your heart health.
How Atrial Fibrillation Can Affect Exercise
Atrial fibrillation impacts the physiology of exercise and exercise safety in a few distinct ways.
"For one, atrial fibrillation can reduce the efficiency of the heart — the amount of blood reaching the muscles during exercise is less than when the heart is in normal rhythm," says Richard Wu, MD, director of the cardiac electrophysiology lab and an associate professor of internal medicine at University of Texas Southwestern Medical Center in Dallas.
"Secondly, sometimes the heart rate and rhythm are normal when a person with atrial fibrillation is in a relaxed or resting state, but the heart goes out of rhythm, or suddenly accelerates to a very rapid rate, when atrial fibrillation develops during exercise," Dr. Wu says. And some people with atrial fibrillation may not be able to achieve an adequate heart rate during exercise and may get tired easily, he adds.
Finally, your atrial fibrillation medications can slow down your heart rate, which can prevent you from reaching your target heart rate during exercise, Dr. Stevens says.
Maximizing Exercise Safety With Atrial Fibrillation
If you've been diagnosed with atrial fibrillation and want to start an exercise program or continue one you were already on, your first step toward exercise safety is to talk with your doctor or an exercise physiologist. He or she can spell out any specific exercise safety limitations you need to follow in order to exercise safely with atrial fibrillation.
Beyond that, here are some specific exercise safety tips for people with atrial fibrillation to get all the heart health benefits that exercise offers, but with less worry:
1. Use an alternative method of heart rate monitoring.Because atrial fibrillation medications can slow down your pulse, checking your heart rate during exercise may not be effective, Stevens says. Instead, for heart health and exercise safety, she recommends that you push yourself until your level of exertion is "somewhat hard" but you can still speak a full sentence without gasping. "When people push to where they're working 'somewhat hard,' it usually corresponds to their target heart rate," she says.
2. Set realistic exercise goals."If you have atrial fibrillation and haven't been exercising, just like anyone starting a new exercise program, you should set realistic goals — don't jump into a strenuous activity right away," Stevens says.
3. Consider interval-type exercises."Some people with atrial fibrillation have no idea when they're in fibrillation, so they can exercise just like someone with a normal heart rhythm," Stevens says. But others experience a decrease in exercise endurance. If that's the case, you may want to consider interval training, "where you warm up and push to where you are slightly exceeding that 'somewhat hard' limit, then back off, recover, push back into it, back off, and recover again," she says.
4. Wear appropriate exercise safety gear.If you're on a blood-thinning medication for atrial fibrillation or another heart condition, it's important to avoid any accidents that can potentially cause bleeding when you're working out. For example, if you choose to ride a bike outside, be sure to wear a helmet, Stevens says. The same goes for treadmill running or any other exercise where you could pass out and hit your head. Also pay particular attention to exercise safety while lifting weights to avoid dropping a dumbbell on yourself, she adds.
5. Be careful when weight training."If you have atrial fibrillation, don't lift so much weight that you're holding your breath and grunting to get through it," Stevens says. There's no particular weight limit for proper exercise safety, but make sure you can lift the weights comfortably, she adds.
6. Stretch before and after activity.Just like everyone else concerned with exercise safety, take time to warm up and stretch before activity and to cool down and stretch afterwards. "Failing to stretch properly can put you at risk for injury, which can also put you way behind in your exercise program," Stevens says.
7. Hydrate properly."If someone with atrial fibrillation has a heart muscle that is weak or stiff, they may have to restrict how much fluid they drink," Stevens says. If you have fluid restrictions, be mindful of them and create the appropriate balance of fluids so you're hydrated enough for exercise safety, but not exceeding your fluid restrictions.
8. Don't overheat."Some medications used to treat atrial fibrillation can lower your blood pressure, making you more sensitive to heat," Stevens says. Protect yourself by taking frequent breaks, drinking water, and paying attention to how you feel. If you ever feel dizzy or lightheaded during exercise, stop right away and cool off.
Having atrial fibrillation doesn't mean you can't enjoy physical activity. Just be sure to take the right exercise safety precautions and be disciplined and consistent so you'll feel good about your exercise routine, Stevens says.
Video: What if I miss a dose of my Atrial Fibrillation medication?
8 Exercise Safety Tips for Atrial Fibrillation images
2019 year - 8 Exercise Safety Tips for Atrial Fibrillation pictures
8 Exercise Safety Tips for Atrial Fibrillation forecast photo
8 Exercise Safety Tips for Atrial Fibrillation pics
8 Exercise Safety Tips for Atrial Fibrillation new photo
photo 8 Exercise Safety Tips for Atrial Fibrillation
Watch 8 Exercise Safety Tips for Atrial Fibrillation video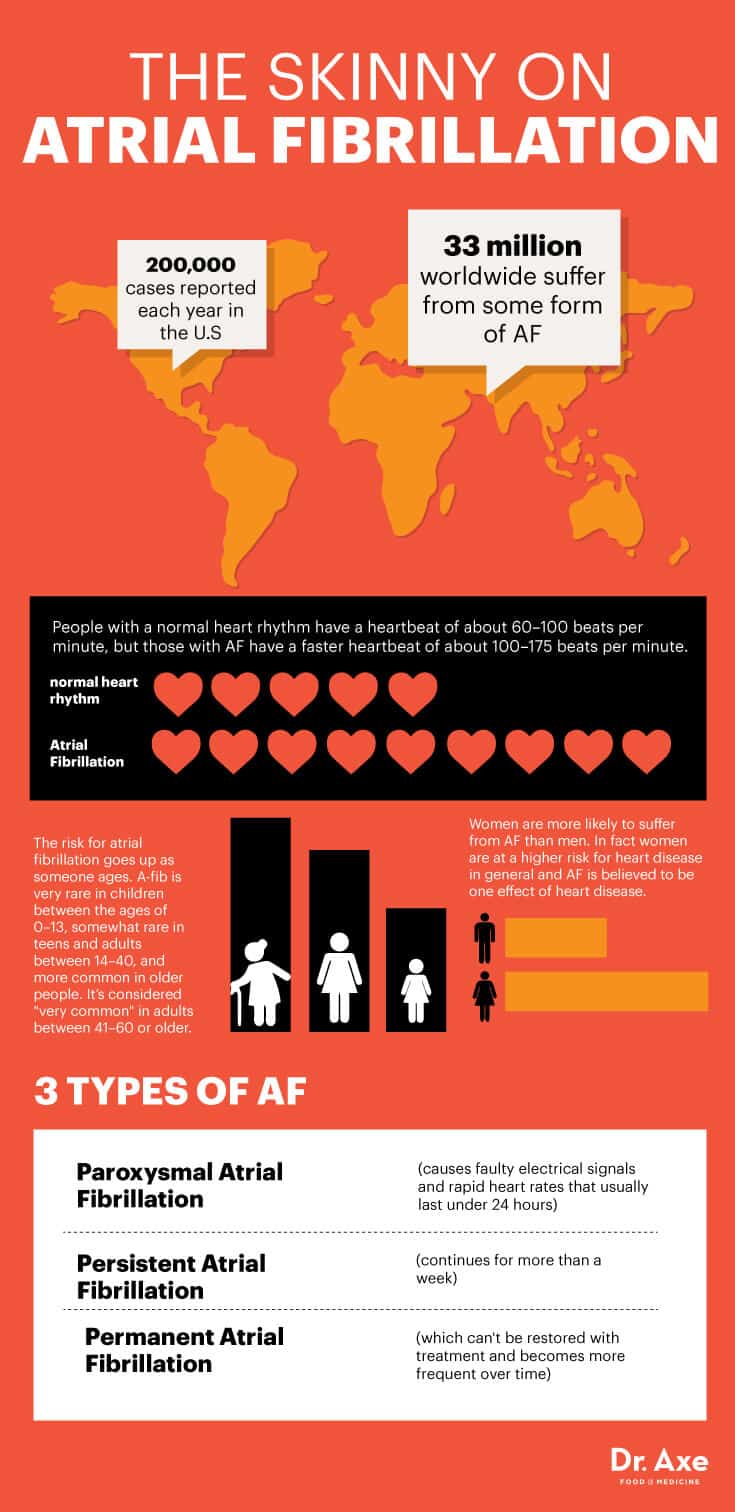 Forum on this topic: 8 Exercise Safety Tips for Atrial Fibrillation, 8-exercise-safety-tips-for-atrial-fibrillation/ , 8-exercise-safety-tips-for-atrial-fibrillation/
Related News
Desperation Dinners: Vegetable and Cheese Frittata
How to Choose Between a Shelter or a Breeder Dog
You May Never Stop Laughing After You Hear This Babys Unexpected Chuckle
How to Dispose of Cat Litter
Ginger Infused Honey Chicken
Ayurvedic Treatment for Hair Loss
Would You Wear It Florence Welch's Heidi Braid and Chain NecklaceLook
20 Edgy Mens Haircuts You Need To Know
Brighten Up: 8 Tips to Really Get RadiantSkin
Running Songs
Letter From The Other Woman
Dress Your Eyelids in Colored Wings
Date: 15.12.2018, 23:22 / Views: 51572
---